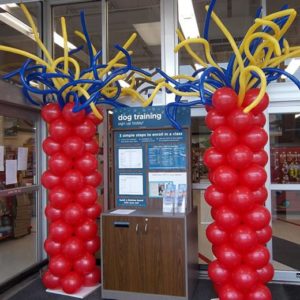 Nittany Balloons is a new division of Sweet Tooth Bakery that is primarily run by Cheri's son, Devin. Both Cheri and Devin have attended "Balloon Camp" for the past 3 consecutive years to learn how to create vibrant structures with balloons. Cheri works more with designs for centrepieces while Devin enjoys building large 5-6 foot sculptures and doing balloon twisting figures or entertaining with balloon twisting at events.
You may continue to get latex and foil balloons individually or in a bouquet, but you may be surprised at all the options available. We have balloons for every occasion at all different price ranges! You can have the best of both worlds by adding some of our homemade cookies as a balloon weight!
Balloon Sculptures and Decor

From tabletop to 6 feet, our creations will brighten anyone's day. Imagine the recipient's face when we deliver a 6 foot sculpture at their workplace. You will give them a memory they won't forget. We placed a giant graduate in the North and South Buildings at State College High School as well as "Crazy Hair" columns at Petco for two different events.
Balloon Centerpieces and Twisting

Flowers continue to go up in price and last only a few days. Our air-filled centrepieces can last a week or more to delight your recipient. Depending on the venue, you may want to choose a centrepiece that sits low on the table or have a larger and taller piece to add more flair. From simple animal shapes to elaborate fruit baskets, twisting an air-filled balloon can delight anyone. Balloon twisting entertainment is a part of your package for our cake decorating parties and teas we offer at our bakery. We are also available for hire at private parties. (No clown or gorilla outfits, though).