Fresh Baked Cookies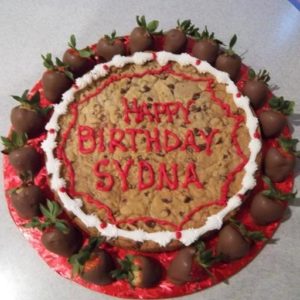 We offer a change of fresh-baked cookies every week. You can usually find chocolate chip, M&M, peanut butter, sugar, and oatmeal raisin. During different holidays, we add specially decorated ones to suit each occasion that are about 2-3 inches in size. During Thanksgiving, Easter, and Christmas we offer Hungarian nut, apricot, and poppy seed rolls. We will make a special request, but you must purchase at least 3 dozen of that particular cookie.
Cookie Cakes
Chocolate chip cookie cakes are available in sizes from 8 inch to 16 inch. A 16 inch cookie cake is the most popular and is the size of a large pizza (cost is $32.00) . A request for a cookie cake with M &M's or a brownie cake is an additional charge of $5-9.
Sugar Cookies with Logos or Photos
These cookies are a sugar cookie that is sturdy for baking with sticks so they can be used in an arrangement or for shipping. They are iced with a special icing that forms a crust so they can be decorated by hand or on the computer. The available sizes are 2 in., 3 in., or 5 in.