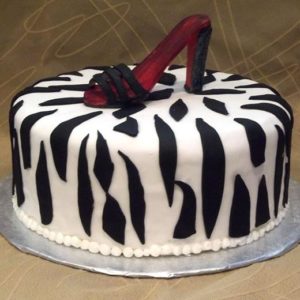 Most cakes are "made to order" to ensure freshness, so please allow a 2 day lead time. If we have the ingredients, it may be possible to get your cake the next day. We have over 20 different flavors to choose from and allow you to mix and match flavors and fillings. However, if the weather is hot or you are travelling a distance with your cake, you may want to choose a "sturdier" option for your filling and icing so things don't "shift" and ruin the design.
We encourage you to customize your cake for your special event and invite your suggestions for decorations as to the theme of the party. Feel free to bring in photos you have come across but be aware that some of the cakes done in fondant cannot be reproduced in buttercream and vice versa. There is an extra charge for fondant decorations and icing since this entails more attention to detail and is very time-consuming.
We have over 50 shaped pans which are in 2-D form and several 3-D shaped generic pans such as a bear, car, lamb and doll shape. Cakes can be sculpted into the desired shape such as a deer or purse. These cakes need to be made from a sturdier batter to hold their shape.